At Miami Auto Color, we know you want the best solutions for your vehicle. That's why we offer top products that cover the full range of auto body supplies. We also understand that repairs and restorations can add up quickly. To keep things affordable, we offer quality products at reasonable rates. We are fully committed to meeting your needs. Our full line of auto body supplies in Miami, OK includes:
Auto paints

Are you searching for the perfect color to match your personality? Are you hoping to match the original paint on a vintage vehicle? Our selection offers a full spectrum to help you achieve the fresh look you desire.

Sandpapers

A smooth finish is essential to the polished look you want for your vehicle. Miami Auto Color offers top brands in a variety of grades.

Body fillers

Restore your ride to like-new condition with the right body filler. Dents, cracks, pores and holes disappear, and you enjoy impeccable results.
Polishes and waxes

The final touch to any finish is a great shine. We offer leading polishes and waxes to top off your project.

Body/Collision

repair Our store has the tools you need to revive your vehicle. From stud welders, to buffers, to inline sanders and more, we offer the supplies to get the job done right.

Paint guns

Miami Auto Color is your top source for automotive paint sprayers in Miami, OK. These guns make applying that fresh coat a breeze.
Miami Auto Color proudly offers top quality products from the following industry-leading brands:
Matrix
3M
Norton USC
Sunmight
USC
Evercoat (fiberglass evercoat)
Dynalite
Meguiar's
Mother's
Hutchins DA SuperSander
DeWalt
H&S Uni-Spotter
Sata
Iwata
DeVilbiss
Tekna
Presta
Pore15: rust preventative paint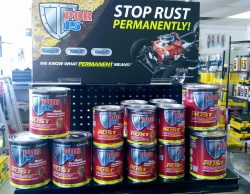 We invite you to stop in today and take advantage of our premium selection and reasonable prices. Our friendly and knowledgeable staff is ready to assist you. Contact them with any questions at 918-542-3500.