Miami Auto Color
Miami Auto Color is your premier auto body supplies store, and we have the supplies you need for the sharp finish you want. We offer auto paints, custom paints, repair tools and more. Our staff is dedicated to providing quality products at reasonable prices. Stop in and see us today!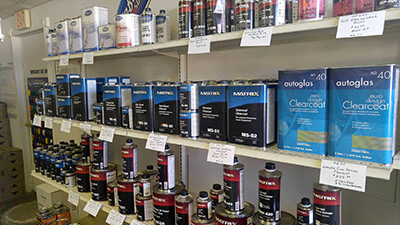 Leading Auto Supplies Shop in Oklahoma
Since our establishment in 2007, Miami Auto Color has been the leader in automotive painting supplies in Miami, OK. Family-owned and -operated, we value personal service and repeat business. Our goal is to be your go-to source for all your auto body supplies. We offer a full line of quality, top name-brand products, to ensure your vehicle receives the best treatment. Our selection includes auto paints, custom paints, sandpapers, body fillers, polishes, waxes and auto repair tools. The knowledgeable staff at Miami Auto Color is ready to assist you in choosing the best products for your project.
Are you restoring a classic? Freshening an old favorite? Recovering from a fender bender? Whatever your project, Miami Auto Color offers the ideal collection of paints and tools to polish it off. With our customers always in mind, we keep our shelves stocked with industry-leading products – and offer them at reasonable prices. Stop in today to check out our unbeatable selection of automotive paint in Miami, OK. We are confident we can help you find what you need. Our friendly staff will partner with you to achieve the look you desire. This customer-centric approach is just one of the many benefits of shopping at Miami Auto Color:
We are locally owned and operated, established in 2007.
We offer a full line of auto supplies to polish off any project.
Our family-owned operation is committed to a customer-centric culture that puts you first.
We provide top-quality supplies at reasonable prices.
We are open on Saturdays, for your convenience.
Top-Performance Supplies
At Miami Auto Color, get the supplies you need at the prices you want – delivered with the quality service you deserve.
Service Areas
Miami, OK
Dotyville, OK
Narcissa, OK
Commerce, OK
Welch, OK
Fairland, OK
Ogeechee, OK
Wyandotte, OK
Cardin, OK
Picher, OK
Quapaw, OK
Ottawa County, OK
Cherokee County, OK
Newton County, MO
McDonald County, MO
Delaware County, OK
Craig County, OK